Ireland is undoubtedly known for its breathtaking landscapes and beautiful scenery, and this makes it perfect for walking. There are plenty of trails and places to walk, no matter if it is just a stroll with your dog or a long hike along coastal pathways.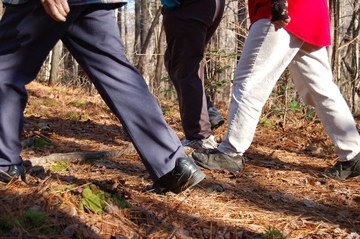 Some of the best trails in Ireland for walking enthusiasts include the following.
Causeway Coast Way
This moderately difficult trail takes you along Northern Ireland's most famous coastline, from the most beautiful cliffs and heights, to beaches so secluded, you will think they belong to you. It leads all the way to harbours, and so many famous monuments and landmarks. This is an excellent trail for those looking for exposure to the country's incredible history, including the mysterious Giant's Causeway, Dunluce Castle and the Carrick-a-Rede charming rope bridge. The terrain is suitable for all types of ramblers, and anyone who enjoys walking. The trail is long so it can be done in parts; one top pick being the route from Giant's Causeway to historic Dunserverick Castle, where you will reach a landscape that you won't even believe is real.
Hare's Gap
This route is only 2.1 miles, but it is deemed difficult, as it passes through dramatic mountains, which lead those who travel on it, to Hare's Gap, which is 1444ft high. It once served as the main exit point for goods that were being smuggled from the coast.
Walking Groups
If
you are moving to Ireland, already live there, or are staying for an extended period of time, and enjoy walking or even the prospect of it, there are many walking groups to join. They will help you experience the best of the best that Ireland has to offer regarding walking. The Tamniarn goldens is an example of a group you can join, to experience the walking and see different trails.
If you are walking and doing so frequently, be sure not to underestimate the health implications, especially if age is a factor. There are services such as https://www.livi.co.uk/ that offer an excellent healthcare service on the go for avid walkers like yourself. This will enable you to look after yourself.
Be sure to stretch, even though it may not always seem necessary. Joints such as knees, elbows and ankles can get worn and torn during long walks. Use the appropriate equipment like walking sticks, good shoes and heating pads to keep your health a priority.
Also, if you are joining a walking group, be sure to use GPS, and keep contact information for others in your group, to ensure that you don't get lost, or separated. Keep to the tracks and paths to get the absolute best from your walk.