The best-selling alcoholic drink in Ireland is the famous Guinness. Dating back more than 250 years, it takes real precision to be able to pour the perfect pint of this dry stout. According to the Guinness company, pouring the perfect drink should take no more or less than 119.5 seconds.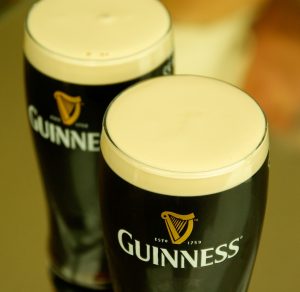 The good news is that when someone visits Ireland they are not expected to pull their own pints. Just visit one of the many traditional Irish pubs where the skilled bar staff will do this with flair. Consider O'Donoghues on Merrion Row, where there is also a guarantee to be entertained by traditional Irish music. Over the years some of the top names in music have appeared here, but some might find it gets very busy at the weekend.
If someone subscribes to the theory that Guinness should not travel then all they have to do is pay a visit to the Guinness Storehouse. This is a tourist attraction that is seven storeys high and they will find that they are paying a lot more than expected for a pint, but it is definitely worth it. At the end of the tour enjoy the amazing panoramic views of the city of Dublin.
Anyone who might want to see an Irish pub that is almost as old as Guinness then why not try Mulligan's which dates back to 1782, just 10 years younger than the drink. This is a real vintage bar and it has a great reputation for those who want to experience a taste of the real Ireland.